A portrait of the most obsessed Morrissey fans in the world...
16/05/09 13:11 Filed under:
Fangirl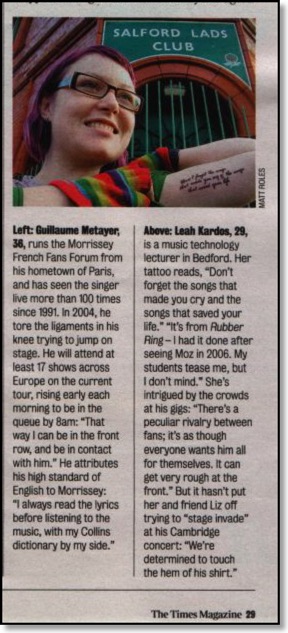 ... that's what the heading said on the contents page of the Times Magazine last weekend, and I kinda feel like I don't live up to the title somehow.

Later on tonight I will be going to the Cambs gig and I'm sure I'll see people there WAAY freakier than me. I think it's awesome that the one weekend of my life when I had silly purple hair is the one where I get photographed in front of the Salford Lads Club, the one that gets printed in national media. And I'm wearing rainbow fingerless bum-gloves.
Click on the 'read more' link at the bottom of this post to see the whole article (cheers for the scan, Liz).


I know it's been a little while since I last blogged what I'm up to; I've been mostly working on finishing my band's (long gestating) EP and writing incidental music for a documentary project. Also, the school year is wrapping up for 2008/9 so I've been working some extra hours trying to help the kids finish the year in style (or in some cases, just finish!). I would be stressed out, except that I know summer is just around the corner, starting with Glasto, which I am terribly excited about. Neil Young on the pyramid stage, nuff said. :D

Matt and I also have our families coming to stay with us over the next 2 months - his mother and father arrive in 2 weeks, they stay until we leave for Glasto, and then as we're driving back from glasto we pick my mother up from the airport. And she's staying for about 3 weeks after that. Will be nice to take a break from ordinary life for a little bit and go on lots of holidays, show them a bit of England and Europe while they're here. Also... 2 months of mum-cooked meals FTW!